Custom Framing Services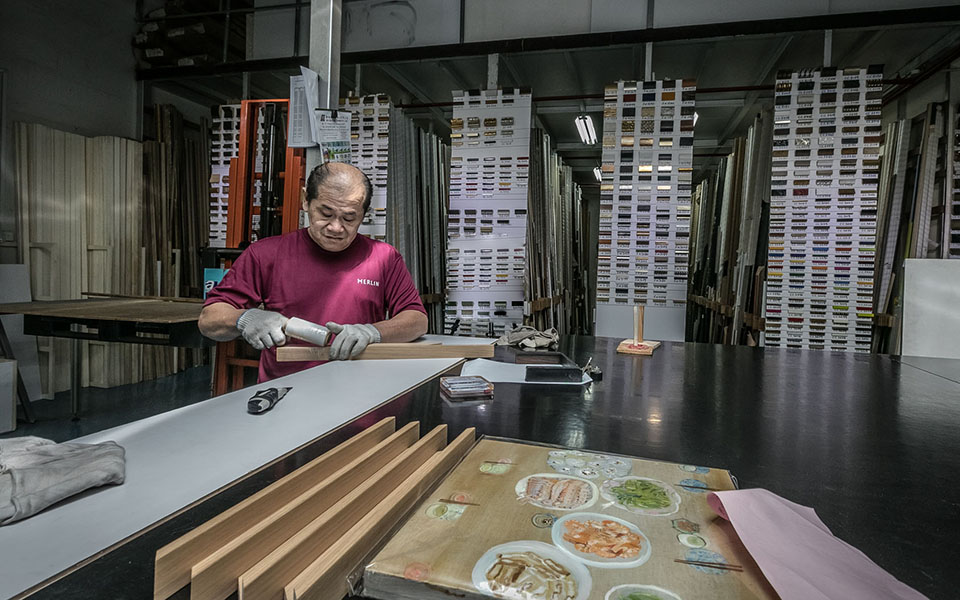 Merlin Frame Maker offers a fully bespoke fine art and commercial framing service for the office, home, shops, galleries, and museums.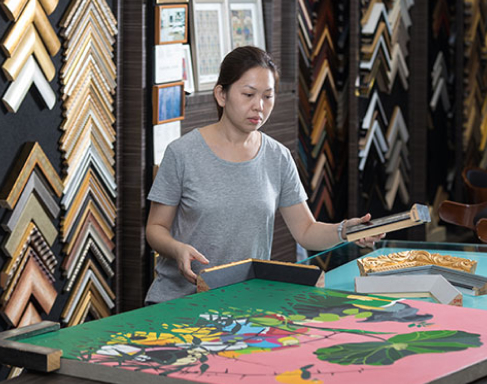 We specialise in creating beautiful hand-made, museum quality frames for fine art, paintings, prints, posters, photographs, objects, garments and more.

Our offering includes over 600 high-quality frames, which can be mixed and matched with countless mat boards, textiles and glazing options to fit your individual style and requirements.

For those framing for maximum longevity and clarity, we also specialise in conservation framing, working with many of the leading galleries and museums in Singapore.

Any questions? visit any of our 3 dedicated framing outlets, give us a call, or ask via our WhatsApp channel in the bottom right.
Family Photos
Sports Memorabilia
Sports Equipment
Collages
Certificates & Awards
Cross Stitch / Needlework
Fine Art
Photography
Paintings
Posters & Prints
Canvas Stretching
Custom Mirrors
3D Works
News Articles
Scarves & Other Garments
Frame & Glass Repair
Restoration
Glass Table Tops
Our Custom Framing Process
At Merlin Frame Maker we recognise that every customer has different requirements. Our custom framing solutions allow us to cater to any type of framing requirements, and our experienced staff are always on hand to help guide you through your options and highlight the benefits of various options.
Design
Our framing specialists are on site to help you as required. From choosing frames, mat board and glazing options, they'll walk you through the options and provide recommendations.
Build
Our master craftsman will build your frame to exact specifications in our state of the art 6,000 sqft workshop, using specialist technology to maximise precision and quality.
Pick Up or Delivery
Once your frame has been completed, you can choose to pick up directly from one of our outlets or for an additional fee we can arrange to deliver and even install works for you.
FAQ
When it comes to framing photography; ink and paper artworks, why should I use acid-free mat boards?

It prevents acid from getting through to the artwork and causing an acid burn that yellows or fades the paper. It also acts as a moisture barrier to prevent mould from forming at the back of the paper.

For conservation framing, which wood should I use?

It is a personal preference; it depends on the style of your interior design. For conservation framing, however, we will typically recommend solid teak because it is extremely durable and resistant to insects. We bring our teak wood from Myanmar, one of the best sources in Asia.

What kind of acrylic glazing should I use to protect my artwork?

We use a high-quality acrylic glaze that has 3 grades. For more valuable pieces, we use the highest grade – Tru Vue Optium Museum Acrylic. It offers 99% UV protection, anti-reflective, anti-static and shatter-resistant. For a lower price, we have the second grade that offers similar protection; it is also 99% UV protective and anti-reflective. The next grade is the cheapest and used for less valuable artworks such as posters and souvenirs.

Which backing board should I use?

We seal the back of the frame with a non-porous corrugated board that is approved by museums. It protects the artwork from dust, dirt and insects. We can show you samples of this in our outlets.

Which hanging solution should I use?

By default, we use plastic-coated wires so it won't rust over time. We also offer a security hanging option for artworks displayed in offices and public spaces. It has anti-theft hardware that is easily concealable and requires a key to remove the artwork.

If my artwork is oil on canvas, what is the framing process?

For contemporary paintings, it is usually best unframed unless you want to adhere to a specific theme in the space you are hanging it at. Before hanging, the painting will first need to be stretched. To stretch a painting, stretcher bars are used to ensure the stability of the frame during canvas stretching and the long-term protection of the painting. There are many stretcher bar profiles. Our stretcher bar is designed to taper away from the canvas to leave a gap between the bar and canvas, minimising the contact between the canvas and bar. Also, we only use solid wood stretcher bars as the foundation. Unlike softwood, solid wood will prevent the canvas from bowing or warping over time.

Which framing solution should I choose if I want to take down my artwork in the future without any damage?

We will usually avoid using a mounting board. Instead, we will use the hinging method. It is a non-invasive method of securing the artwork onto a mat board without directly applying tapes or adhesive onto the artwork. We usually use acid-free Japanese rice papers, archival pressure-sensitive tapes and linen tapes. They are easily removable with a drop of water or alcohol.

What steps should I take to maintain my framed art?

You need to regularly check your framed piece to detect any damage by insects or mould. Any deterioration of the framing is usually due to moisture from the environment, especially with the high humidity in Singapore. If any damage is detected, you should take your work to a professional conservator for repair – we do offer this service if required.

What are the benefits of using acrylic vs. glass for the glazing?

Acrylic is the preferred choice for glazing. Unlike glass, acrylic is shatter-resistant so it easier to transport and also safer if the artwork is placed in a high-traffic environment or you have kids in the home. In the event that the glass breaks, it can slice and damage the artwork. Also, acrylic is significantly lighter than glass, making it easier for the wall to support the weight of the frame. In terms of UV buffering properties, acrylic is also superior. Standard acrylic glazes have a higher UV buffering percentage compared to its glass counterpart, which has 0%. Although museum glass is on par with museum acrylic, it is usually the second best alternative, especially for fresh unfixed pastel and charcoal works. But of course, acrylic has its cons too. Acrylic is softer than glass and more easily scratched. However, this can be easily avoided by using a soft microfibre cloth to clean the surface. Overall, acrylic is a much better choice and one we will always recommend as the priority choice.

How do I know which mounting board to use?

There are different types of boards available. For permanent mounting, we use an aluminium composite material that protects digital and screen-printed artworks. It prevents any bowing or warping of the paper, please ask our experts in store if you require more information on the various options.
Contact Us
Merlin Frame Maker has 3 outlets in Singapore, so if your query is specific to one of the outlets we recommend you contact them directly for the most efficient response time.
For framing quotes, you may wish to use our online quote submission page.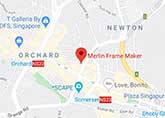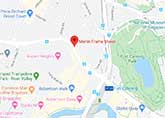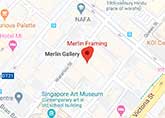 Waterloo Centre
261 Waterloo Street,
#01-10/11, Singapore 180261
Open Google Maps