Merlin Frame Maker is the largest custom frame maker in Singapore. We regular help customers to add a custom frame to their mirrors for added style.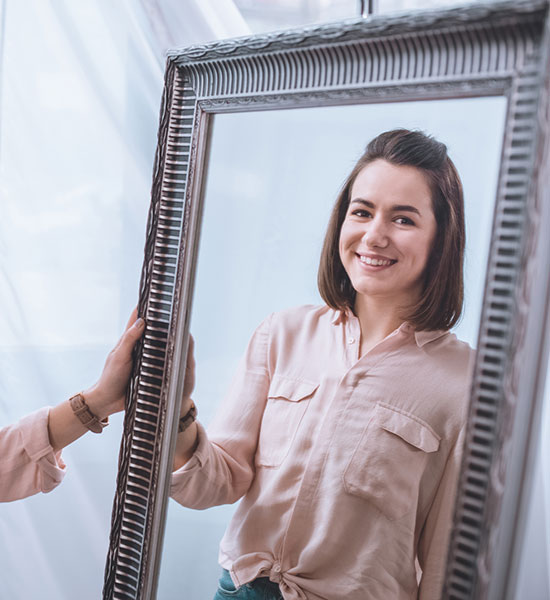 Mirrors are not only functional but also add a sense of spaciousness and sophistication to your home. Merlin Frame Maker offers a custom mirror framing service with a wide selection of frame molds and finishings to choose from. We are adept at helping you select the best framing solution to complement your space and can customise the size to your specific needs. We have delicate ornate frames if you are looking for a highly decorative mirror and high-quality wooden frames for more practical, clean-cut mirror designs.

Our passionate and highly experienced framing specialists will help guide you through your options and provide recommendations where required. We also offer various additional services, including delivery and installation of custom mirrors where strong wall mounting may be required for heavier, oversized mirrors.

Please note that we are unable to frame rounded mirrors. Please contact us to request more information or to seek a quote.
Request a Quote
FAQs
What frame options are available?

Although we do not offer a fully-customised frame design, we carry a wide range of frame moulds and finishings that you can select and combine. You can definitely find a style that complements your interior furnishing.

What are the minimum and maximum sizes I can frame?

The smallest mirror size we can provide is 4" x 4". We usually frame mirrors up to 3m in length but we can make a few exceptions if required. The largest size is dependent on several factors – logistics and wall installation; availability of large sheet and thick mirrors (reflections may be distorted if the mirror is large and thin). For larger sized framed mirrors or those that are to be installed in higher wall spaces, we have to visit the site to ensure that it is suitable before the frame production.

Can you frame rounded mirrors?

No, typically we are unable to do so.

How long would be the usual lead time?

It takes 10-12 working days for plain framed mirror and 15-20 working days for more convoluted frame designs with bevelled mirror edges. It's possible we may be able to do a priority job, but please speak to us ahead of time to discuss as depending on other work in progress we may not always be able to accommodate.

Do you offer delivery and installation services?

Yes, we are able to offer delivery and installation services but please be advised there will be an additional charge applied. This is a core service we offer, so our staff and equipment are well suited to this area. Please check with our sales staff when discussing a custom mirror frame and they can provide you with a quote for these additional services.

Can I install the mirror myself?

We include strap hangers for small to moderate-sized framed mirrors so you can easily install it by yourself or have your own contractors do the job. For larger, oversized mirrors we install French cleats to bear the heavier weight. It is best to let the installation be done by our in-house experts, but again – this is your choice.
Contact Us
Drop us an email to discuss your options and get a quote.