Conservation Framing Specialists
Merlin Frame Maker is one of the pioneers of conservation framing in Singapore and our trained specialists are ideally placed to advise on the appropriate selection of materials to protect your artwork.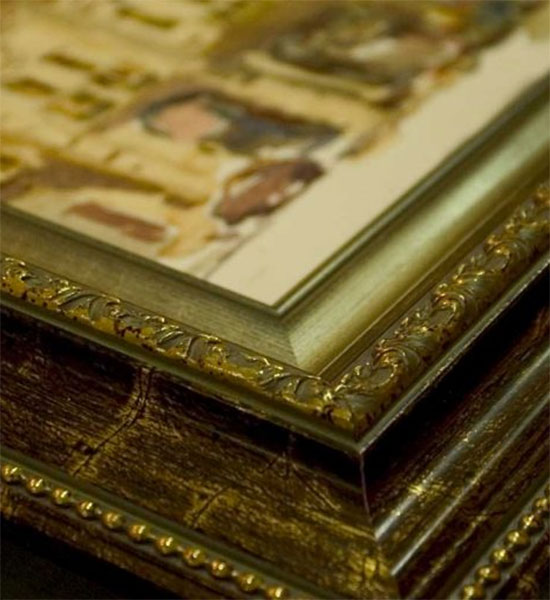 Conservation Framing is designed to minimise the deterioration that occurs when a piece of art is exposed to the environment over a prolonged period of time. Whilst this deterioration predominantly occurs from environmental factors such as light, water, humidity, and dust, it also occurs due to low-quality materials and framing practices that allow various chemicals and elements to interact and speed up the process of deterioration.

Merlin Frame Maker is a specialist in the practice of conservation framing, combining the highest quality materials with our experienced team of skilled professionals we have been chosen by many private art collectors, galleries and museums, including the National Gallery.

For information on our conservation framing offerings and practices, please do get in touch.
Request a Quote
More Information on Conservation Framing
Acid free materials and UV protection

Damage to an artwork is often caused by the quality of the framing itself, primarily due to the use of materials that contain acid, which causes discolouration and bleaching over time. We protect your artwork by only using the finest, museum-grade acid-free materials. This means shipping in our base materials from across the world, including France, Germany, Italy and the United States.

Exposure to strong internal lighting or direct sunlight is the other common cause of deterioration. Prolonged exposure usually leads to bleaching of pigments and the loss of colour. We actively recommend Optium Museum Acrylic from Tru Vue, which offers a virtually invisible anti-reflective coating that allows viewers to see the finest details, while its UV-filtering (99%), abrasion-resistant acrylic, and anti-static coating offer uncompromising protection and preservation.

Our high quality frames

Beginning from the frame, we ensure that our wood is of the highest quality and clear from any form of dirt. We perform our due diligence in preventing any foreign organisms from coming into contact with your artwork.

Teak wood is our top choice for framing. Teak wood is a hardwood that is a natural insect repellent and it emits oil that further protects its surface.

Our experienced framing consultants do not only assist you in the selection of your frame but in choosing the correct framing method that is most suited to your needs. We provide these services in order to bring out the best in your artwork and ensure its longevity.

Glazing

In simple terms, the glazing layer is the perspex (acrylic) or glass sheet that covers your work from the elements or busy fingers. The primary purpose of glazing is to physically protect the work from damaging factors such as light, humidity, heat, and soiling.

Artworks rendered on paper or fabrics containing pigment and dyes that absorb UV are susceptible to discolouration and typically require protective glazing. Laminated glass and certain kinds of acrylic can also be used to protect against physical damage such as glass breakage, which we see on a very regular basis.

We typically recommend Tru Vue Optium Museum Acrylic, which blocks 99% of harmful UV light rays from causing discolouration and also provides exceptional clarity for viewing.

Acid free mat boards

In conservation framing, mat boards have several important functions, but its primary functions is to separate the glazing from the art or document being framed; this is significant because any condensation that develops on the inside of the glass can be transferred to the artwork if they are not separated, which in turn can cause water damage.

Photographs should also be separated from the glazing because the surface of photographs is particularly susceptible to damage, and may even separate from its original paper and stick to the glass if wet. For this reason, any photograph of value should be framed in such a way that it does not make direct contact with the glazing.

The use of acid-free mat boards further prevents the possibility of foxing (yellow spots) appearing on your artwork over time. Otherwise, acidic materials encourage fungal growths within the frame.

Professional artwork hinging

Having worked with many precious artworks, we have developed many different methods of containing artworks within their frames. One of the most common ways is hinging. This is a process where the artwork is secured between the float matboard (4 ply/8 ply) on which it is hinged and the windowed matboard over it, forming a booklet of sorts that keeps the artwork in position.

The importance of hinging the artwork arises from conservation precautions. This method of hinging is designed so that your artwork will be in direct contact with both the glazing and the backing. Using acid-free materials to surround and protect your artwork will allow it to stand the test of time.

The process of hinging is done in our locally-based workshop where the environment is controlled and there are no external threats that may damage your items.

Desiccation

In Singapore, humidity is a constant problem. To protect against this threat we offer the use of Art Sorb, a sheet that is inserted between the float matboard and PVC corrugated backing board. Art Sorb absorbs moisture, thus regulating moisture levels within the frame.

We recommended the use of desiccant sheets at the back of the frame to form a ventilation gap between the frame unit and the wall. Creating a distance from the wall is important as walls are often the main catalyst for introducing moisture to the frame unit.

Dust cover protection

The dust cover, also known as the backing of the frame, is the finishing touch for conservation framing. This material, as its name suggests, protects the inner frame from any dust particles. Additionally, our selection of backing types includes both PVC foam boards as well as plywood.

The benefits of selecting a PVC foam backing board varies from frame to frame. One key benefit is that PVC foam board is an anti-absorbent layer that prevents moisture from seeping into the inner frame.

PVC foam board is also a much lighter material, reducing the overall weight of the frame, and increasing the ease with which it may be stored or transported.

Controlling your environment

Despite the preventive measures in place within the frame, the environment of the place where the artwork is displayed will decide its ultimate durability.

A constant change of temperature will affect the artwork from within; water in the atmosphere will condense when it is cool, leading to the formation of yellow spots. The best environment for storing a work of art is a temperature-controlled room equipped with a dehumidifier.

A dehumidifier functions to regulate moisture levels in the air. The optimum level for storing art is around 55-65%, especially for works on paper. By controlling the humidity, even if there is a drastic change in temperature, less condensation will form.
Contact Us
Drop us an email to discuss your options and get a quote.